If you are serious about managing and developing a small business (IP or LLC), you need to open a bank account as soon as possible so that you can start managing your finances effectively. When you start looking for the best bank for business, you will quickly run into a lot of problems. This will take longer than expected.
When opening a bank account, it is important to take into account some features: the availability of an Internet bank, round-the-clock information support, cash deposits, free ATMs and a convenient mobile application. You need to ask about the size of the commission for operations and the cost of servicing a settlement and cash account (RKO).
Because every business is different, there is no perfect account for a small business. Some small businesses may be happy with an internet bank that doesn't charge any monthly fees. Other companies care more about frequent cash deposits and never have to make transfers from their phone. The only universal desire on bank accounts for individual entrepreneurs and LLCs is a low commission.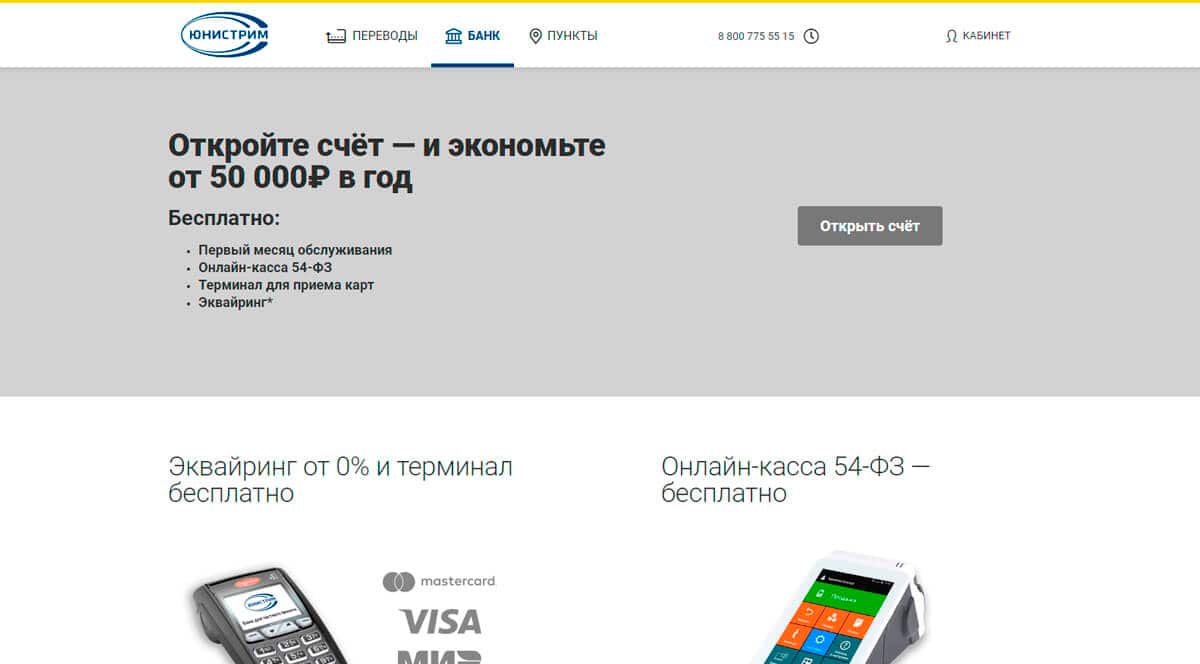 ModulBank has become a good candidate to close the list of the best banks for business. It was founded in 2006 and has the necessary licenses to work with individual entrepreneurs and legal entities. When opening an account (RKO), you save from 50,000 rubles a year. It offers a free first month of service, an online cash desk for payments, acquiring and a terminal for accepting bank cards.
The cost of monthly maintenance of a current account can reach 2,500 rubles, but money transfers to legal entities and individual entrepreneurs will cost only 19 rubles. After the application is approved, you will be able to deposit and withdraw cash up to 150,000. This covers the needs of most small entrepreneurs in Russia.
To date, ModulBank has been chosen by more than 3,000 organizations operating in the field of trade, public services and public catering. To leave an application for opening an account, it is enough to provide your name and phone number. The manager will quickly consider your request and offer a suitable tariff plan.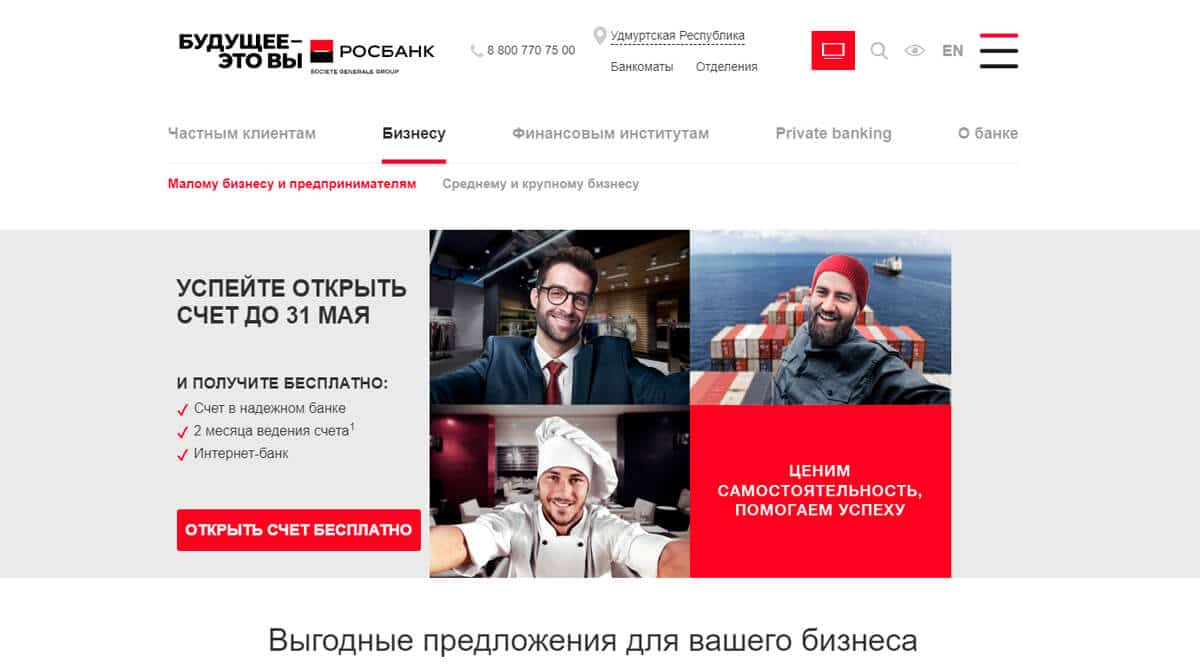 Based on our research, Rosbank is among the top ten banks for opening current accounts for legal entities and private entrepreneurs. Most tariffs offer payments to other banks up to 150,000 rubles per month to accounts of individuals. Those who open a "Platinum" account will receive a free SMS-bank, the ability to order certificates and duplicates, an Internet bank and use round-the-clock support.
Tariffs imply a monthly service fee in the amount of 490 to 3890 rubles per month. The first 2 months will be absolutely free, which is a good example for the rest of the participants in this TOP-10 rating. Account holders receive a free debit card with cash withdrawals in different currencies without commission.
To open a current account, you do not need to go to a Rosbank branch, you can sign all the necessary documents in just one click. In 2018, Rosbank won the title of the most reliable bank in Russia according to Forbes. Other useful services: lending to small and medium businesses, deposit accounts, bank cards, salary projects and currency control.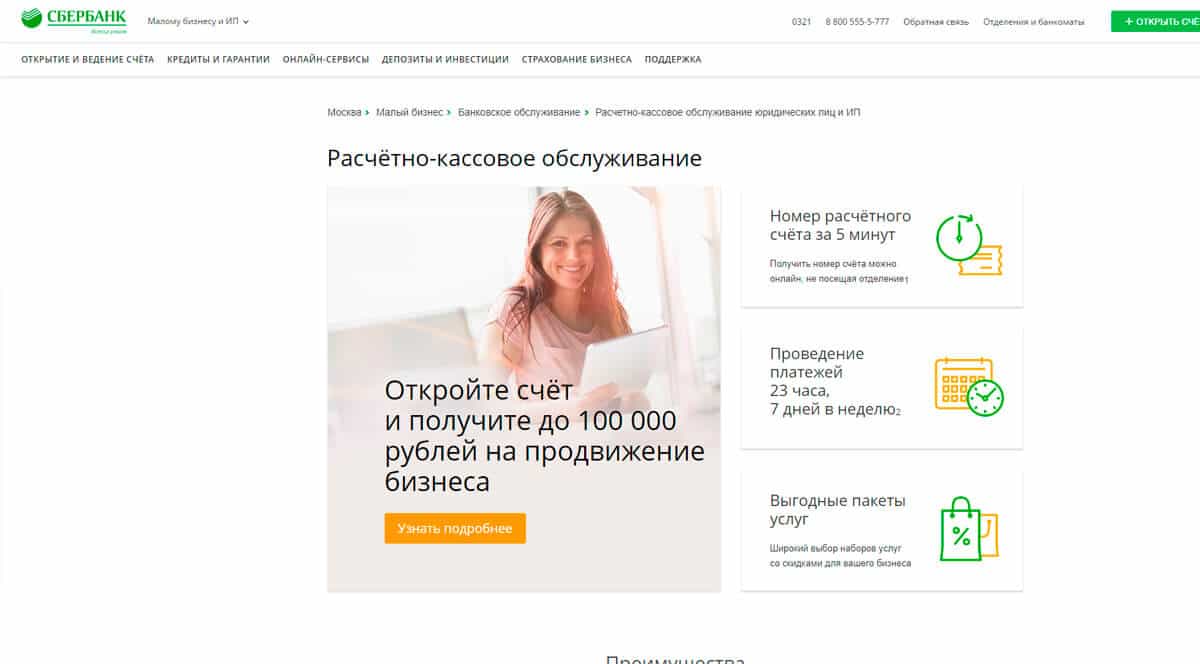 Sberbank is the oldest bank in Russia with many years of experience in providing banking services to both individuals and businesses. A current account with free maintenance has no restrictions for transferring funds from the account and for withdrawing cash through the cash desk. One RKO includes free annual maintenance of a business card, SMS informing, issuance of certificates and round-the-clock telephone consultation.
A high transfer fee percentage is not suitable for companies with a huge number of transactions, but is convenient for a small entrepreneur. Sberbank offers self-collection services, a reliable online bank and a wide range of foreign currencies for settlement transactions.
Sberbank also offers business insurance and credit accounts for businesses, deposits and brokerage services. This is an impressive number of offers for any bank. If you do not need to work with cash, but you need a serious bank, consider Sberbank to meet the needs of small businesses and individual entrepreneurs.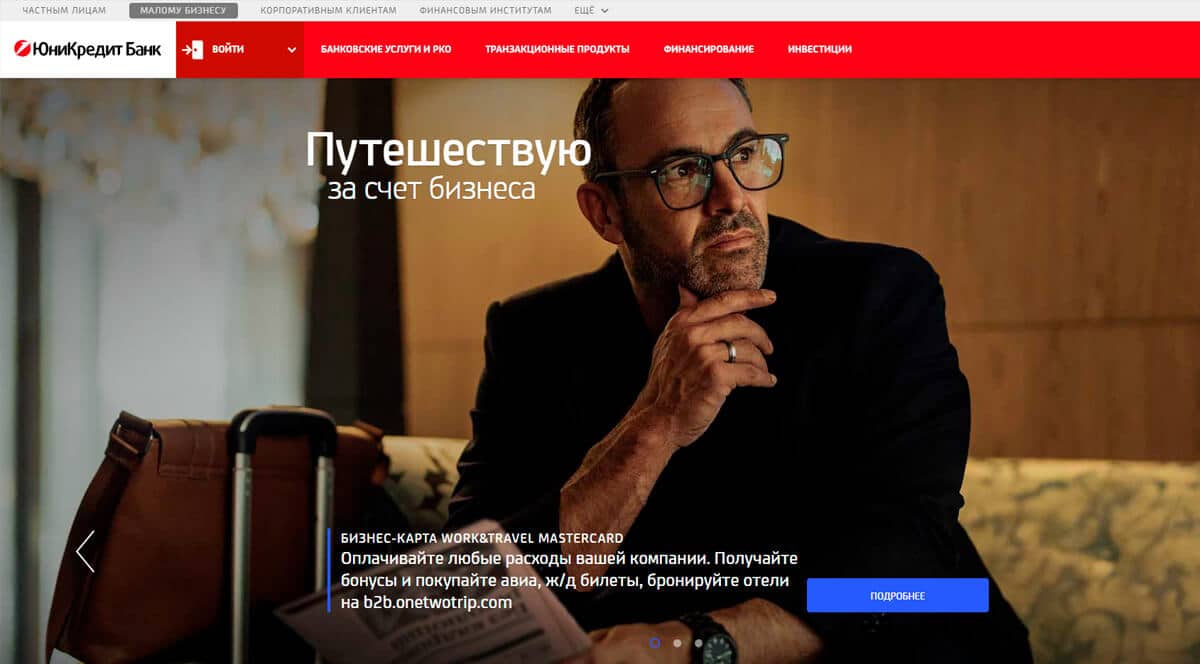 Managing finances can be quite difficult, so you should seek help from a bank to open a business checking account. UniCredit can help in this regard as it provides business clients with affordable services for start-up entrepreneurs. Unicredit is one of the leading Russian banks in terms of funds raised from corporate clients.
A specially developed tariff includes maintaining an account in rubles and foreign currency, issuing account statements and information on cash flow. You can also use the financial service packages: Comfort, Business, Prime, Retail, Maximum and Limitless. Choose the appropriate option according to your needs.
Most offers at Unicredit are pretty standard, but there are some unique features as well. For example, a payroll project for employee payroll. Unicredit Bank is the 1st place among the most reliable banks in Russia according to Forbes in 2022, and on the Epicris website it ranks 7th.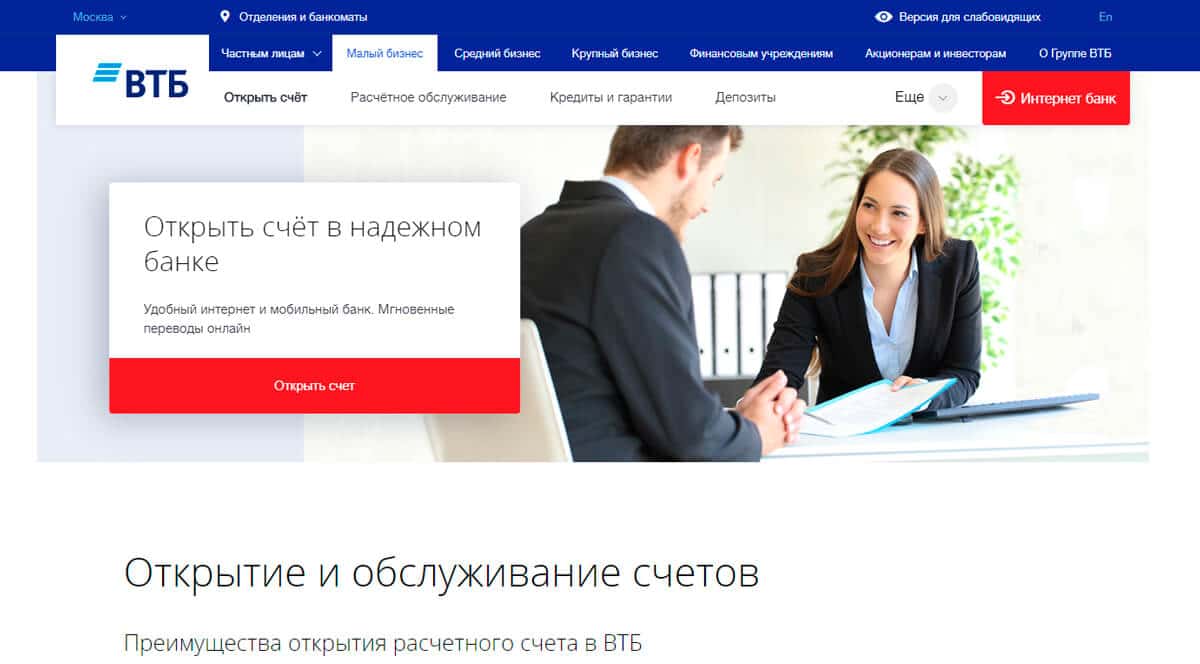 VTB Bank has more than 13 trillion. rubles in assets, making it the second largest bank in Russia in terms of total deposits for 2022. Despite this huge number, VTB does not just provide loans to individuals, but also focuses on small business development. That is why VTB is included in the rating of the best banks for opening a current account.
If you need to take out a loan to expand your business, put money on a deposit or open a cash and settlement account, then you can take advantage of the excellent conditions of a Russian bank. Unlike most competitors, VTB offers favorable conditions for small, medium and large businesses.
Regardless of the package of services, you will receive free Internet and mobile banking, free registration in the tax office and SMS-informing. The cost of the service tariff is from 1200 to 3200 rubles per month. That is why we believe that VTB is the best bank for opening a current account for an LLC or individual entrepreneurs.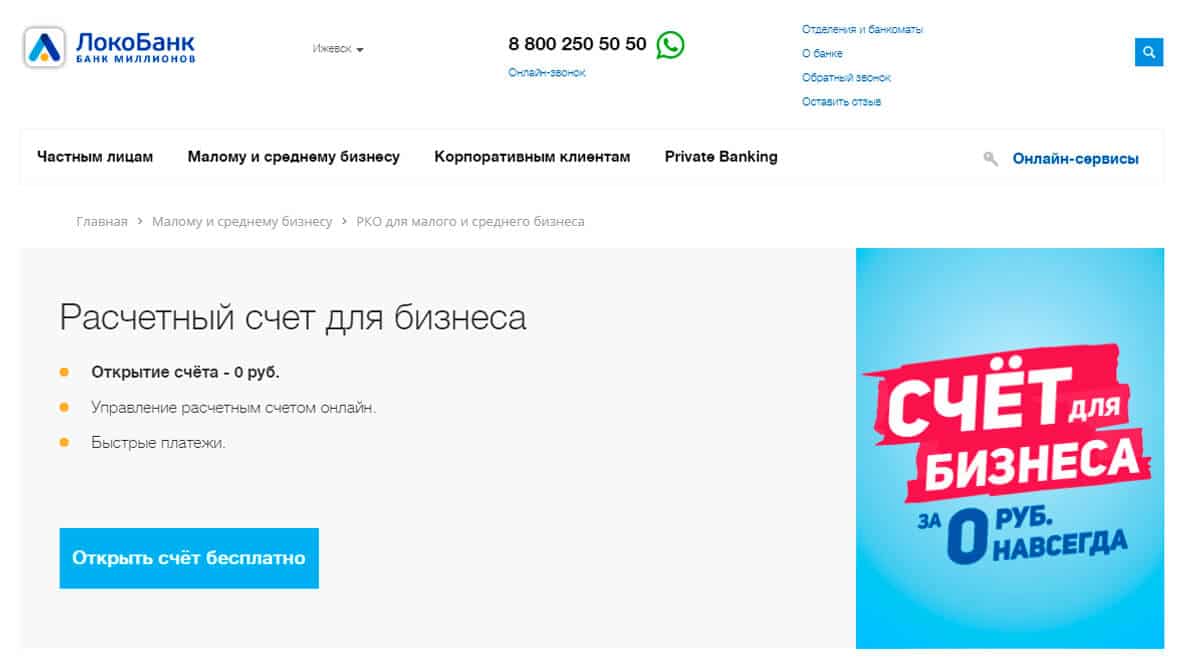 Regardless of the size of the current business account that you open with Lokobank, you will receive a free opening. The owners of the Optima tariff can make payments to legal entities and individual entrepreneurs to other banks for only 29 rubles. Put money on an online deposit to increase your capital by 7.55% per annum. These are some of the most inexpensive and functional accounts on the financial market in 2019.
All accounts of individuals, individual entrepreneurs and small businesses are insured for 1,400,000 rubles. When paying for bank services for 1 year, you get a discount that will reduce the burden on your finances. In addition, you can order an acquiring service with a free terminal for payment, a business card with cashback, connect a mobile bank to control payments and bonuses from partners.
Lokobank checking account for small business is one of the most reliable business services you can come across. New account holders receive a free transfer to Lokobank's payroll cards, a low interest rate for cash withdrawals and external transfers up to 10 million. In the ranking of the top 10 banks for opening a current account, Lokobank is in third place.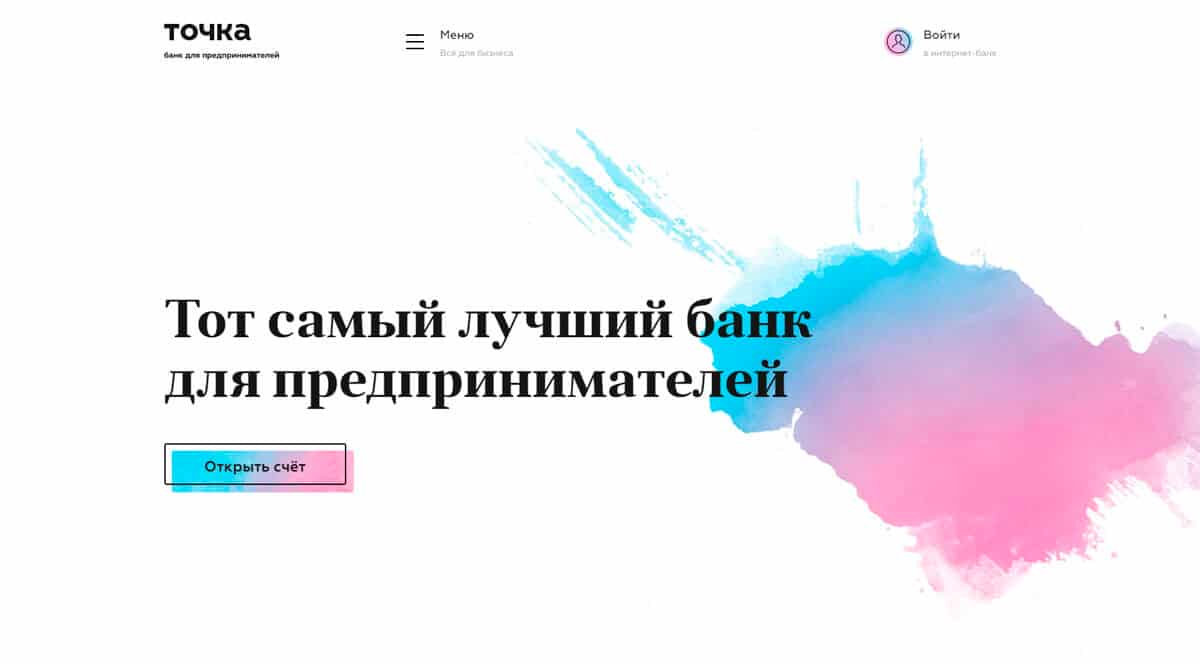 Bank Tochka is not as big as some of its competitors, but it specializes exclusively in working with entrepreneurs in Russia. The most successful solution for small businesses would be to open a current account at Tochka, which offers a free service tariff, as well as a mobile application, Internet banking, corporate cards, tax and budget payments.
The Golden Mean plan is great for small businesses with fewer than 10 payments per month (you'll pay 60 rubles for additional transactions). You can withdraw cash up to 50,000 rubles. every month with a commission of 1.5% and deposit cash to the current account for free. Currency account allows you to make payments in dollars and euros.
Like others in this TOP-10 rating, Tochka Bank offers additional services: registration of individual entrepreneurs, LLCs, online accounting, acquiring, online cash desks and business loans. The most profitable and effective option for large businesses will be to open an account "All the best at once" when signing a contract for a year.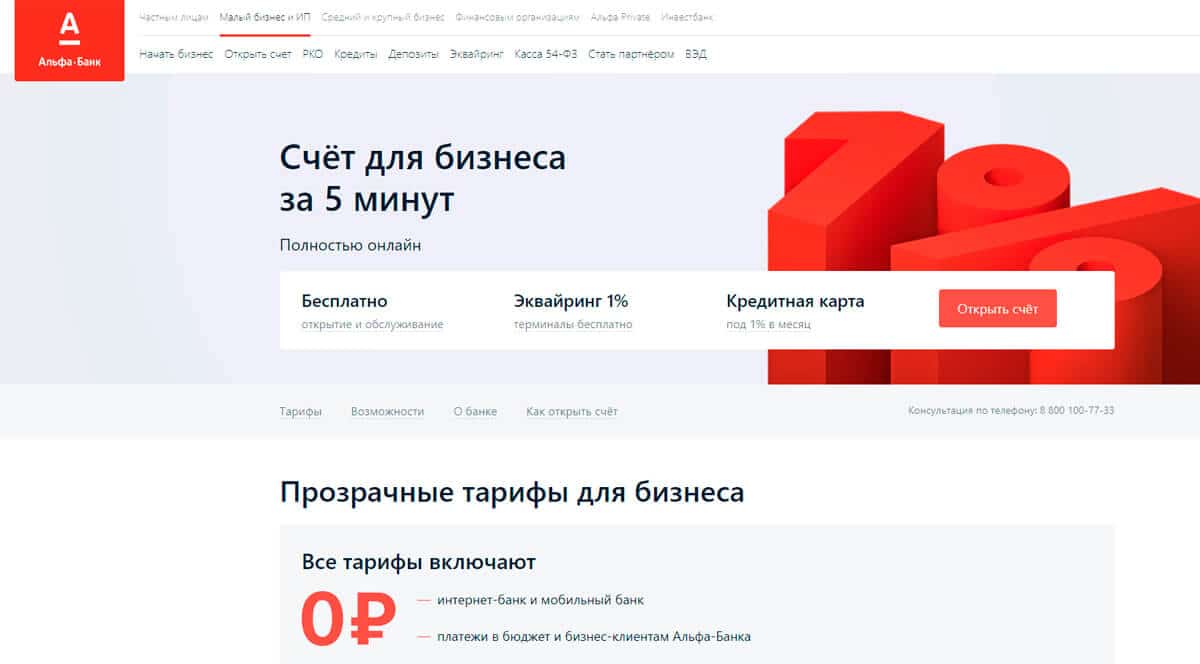 If you need a good bank for your business, then Alfa-Bank is the best option for a small business owner. Alpha has representative offices throughout the country, offers free opening of a current account for new entrepreneurs. In addition, they have one of the best online banking systems and fast mobile banking.
Alfa-Bank offers free bookkeeping, business credit cards and 1% acquiring for accepting card payments. If you have checking and savings accounts in one place, it's easier to manage everything with a single internet banking account. To open a CSC, it is not necessary to visit a branch, it is enough to submit all the necessary documents online.
Thus, Alfa-Bank ranks second in the TOP 10 because it offers everything your business may need and gives you many options to avoid monthly service fees. Both small individual entrepreneurs and large LLCs with many employees can easily find the necessary offers.
User Choice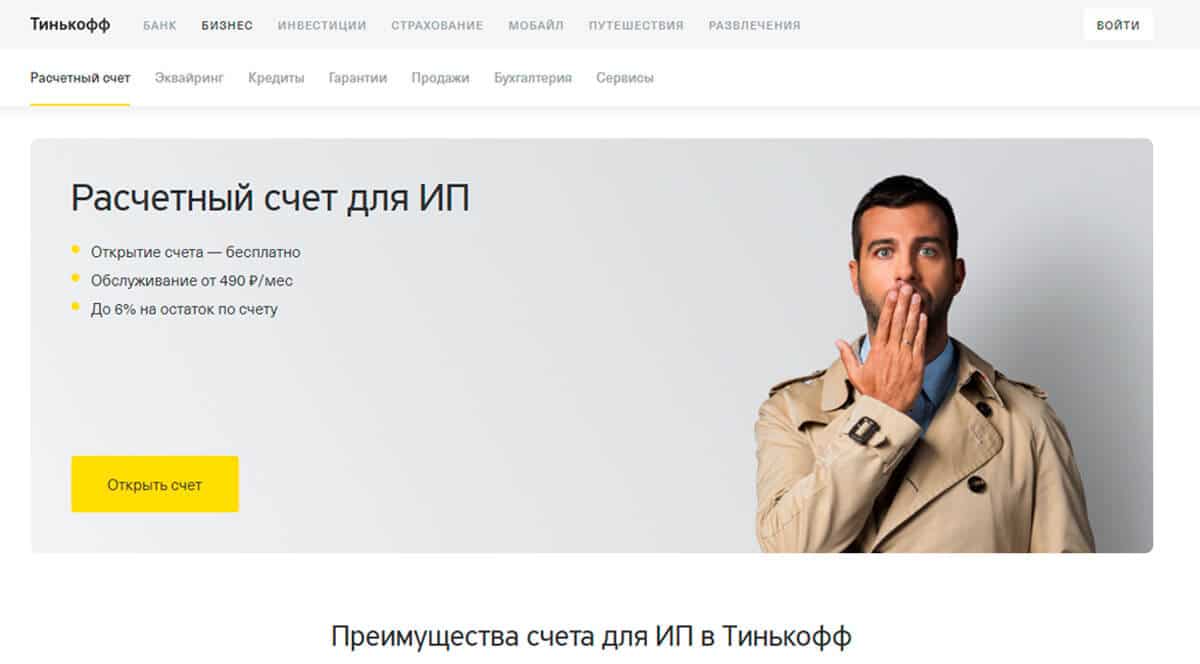 If you are a modern entrepreneur who plans to open a current account inexpensively, then you should think about Tinkoff Bank. This is an online bank that offers the most favorable conditions for your business and additional bonuses to all customers. There are also related services: acquiring, guarantees, loans for opening a small business and accounting.
Tinkoff offers not just current accounts, but interest-free cash withdrawals, free online accounting, overdrafts and business loans. A personal manager will answer all questions in a chat or by phone, help collect the necessary documents and connect new products for individual entrepreneurs and LLCs.
Tinkoff is included in the TOP-10 best banks for settlement accounts and offers up to 6% per year on the balance, a minimum account maintenance fee (490 rubles per month) and cash bonuses for promotion in social networks. To avoid paying for the basic Tinkoff tariff, you need to conclude a service contract for more than 1 year.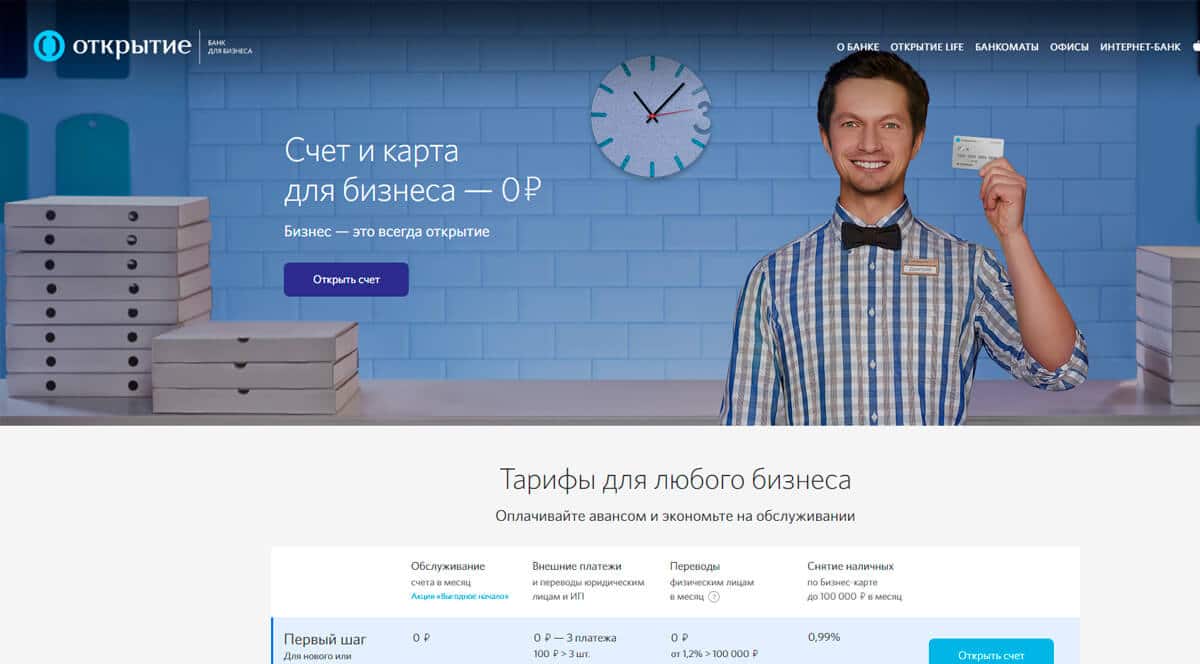 Otkritie has one of the highest ratings on our list of small business banks. It is one of the most active lenders in the country, both in terms of actual financing and in terms of the number of loans. The bank has an extensive history in the field of working with business and offers to issue settlement and cash services (RKO) for individual entrepreneurs or LLCs.
This will give you complete control over your finances. Depending on the tariff, the terms of use may vary. For a new business, a tariff with a limit of 3 payments per month is suitable. For a developing organization, a more advanced tariff is suitable, but the service will cost 490 rubles per month.
In total, you will be able to choose between five different offers, each for a different number of transactions. You can manage current accounts using Internet banking on a computer or a mobile application on a smartphone with Android or iOS. Otkritie took 1st place in the ranking of the best banks for entrepreneurs.