Cashback is the most beneficial reward for debit card holders. Instead of bonuses that can only be spent on limited services, the client receives real money. Depending on the bank, the card brings from 1% to 30% of the amount of each purchase in stores in Russia and abroad.
Bank cards pay high interest on selected categories: gas stations, travel, taxis, restaurants and pharmacies. The bank pays about 1% for other items of expenditure. Get a card with miles for pensioners, motorists and a youth card for a child in order to profitably store the accumulated money.
Debit cards with interest on the balance and free maintenance pay up to 7% per year. After an application on the site, the next day a courier will arrive and issue a plastic card with a large cashback in five minutes. Check out the rating of Russian banks with the most profitable financial offers.
10. Rocketbank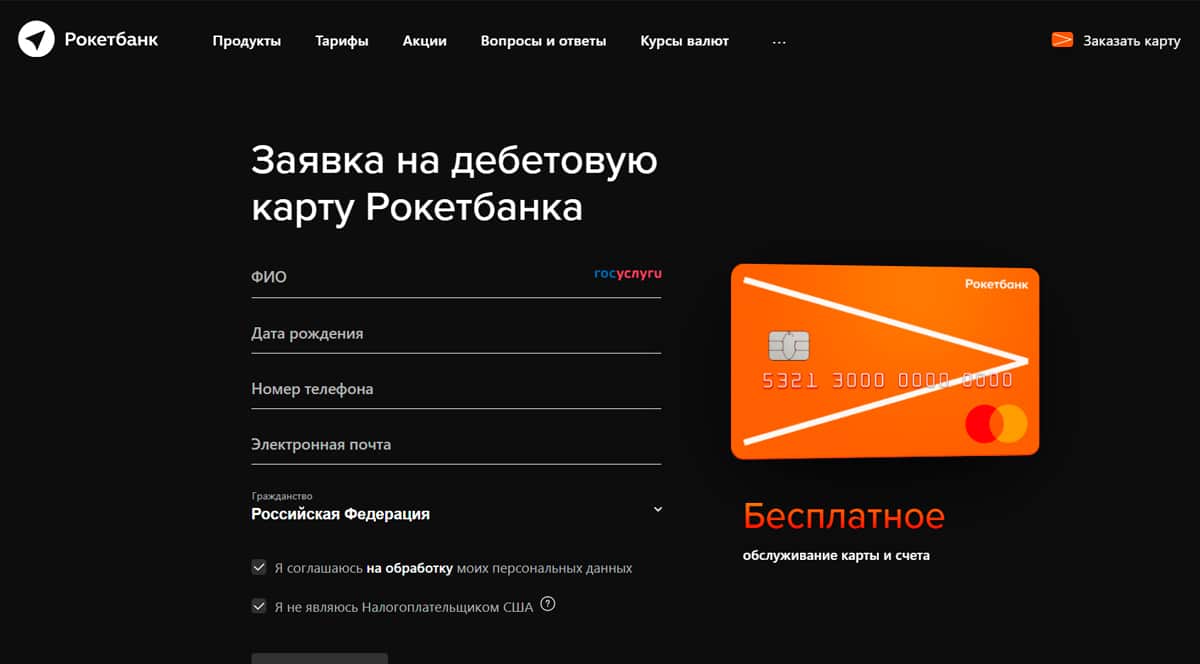 Rocketbank has good conditions for receiving debit cards with cashback and interest on the balance. You can link several accounts in different currencies to one card and switch between them in your personal account. To receive a bank card and open an account, it is not necessary to go to the office and stand in line, just download the application and fill out an application online.
The Cozy Space tariff provides for a 1% cashback from each purchase, and with program partners you can return a fifth of the payment back to your account. Cash withdrawal, transfer to a card of another bank, replenishment through an ATM is not subject to commission. The accumulative tariffs of Rocketbank bring a monthly benefit of 4.5% per annum.
At the bank, you can get a virtual debit card with cashback, which is used to store cash or pay for purchases in an online store. If necessary, a virtual account turns into a regular one with a plastic card. In the mobile application, it is convenient to change the currency, open a separate account for savings, as well as transfer money to another person or issue an invoice to another client.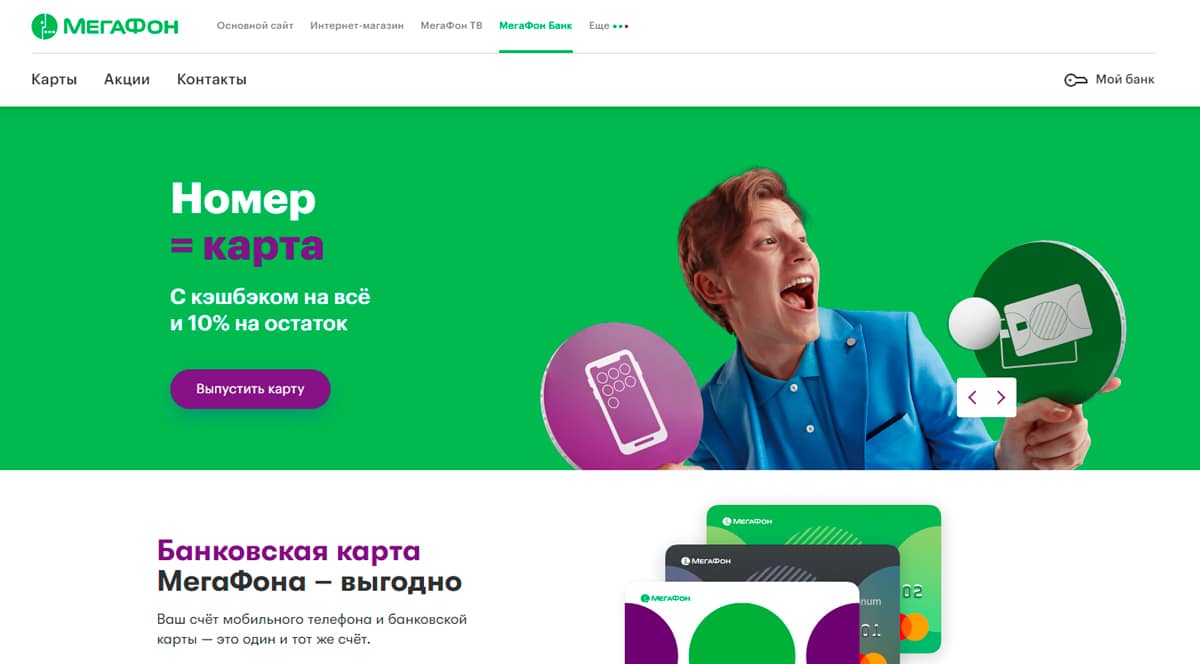 When the account of a mobile phone and a bank card is the same, it is reliable and simple. Get a Megafon Bank debit card and get 1.5% cashback for all purchases in stores and 10% annual profit on the balance. If all conditions are met, card maintenance will be free, and for every 100 rubles spent, the company charges 10 MB of mobile Internet.
You don't have to get a plastic card that will take up space in your wallet. A digital card (virtual) from Megafon is convenient for making purchases on the Internet, as well as for contactless payment through an electronic wallet. The virtual account is subject to the same rules and tariffs as a regular one. Payment data is encrypted, so using a digital card is safe.
For a Megafon bank card, you can select the Standard, Light or Maximum tariff. They differ in the size of the cashback and the conditions under which no account maintenance fee will be charged. All bank customers are protected against accidental subscriptions, as well as free SMS banking, which works without the Internet.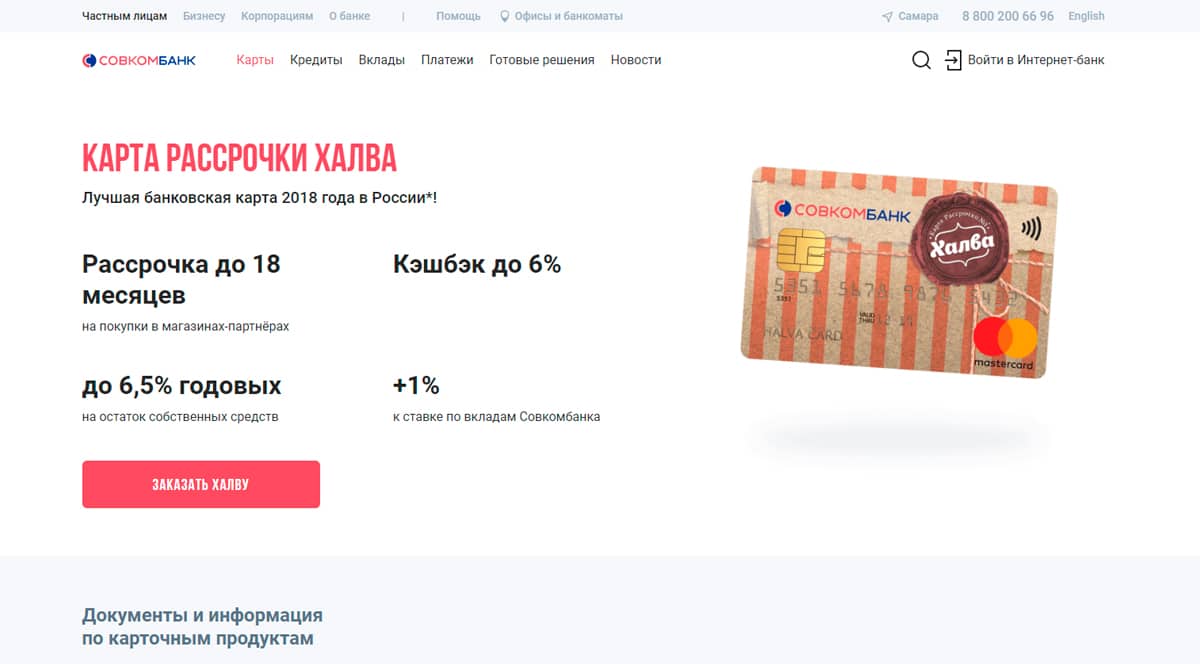 At Sovcombank, you can get a profitable debit card with cashback and interest on the balance in 2022. The convenience of the bank's program lies in choosing a specific category for which you can receive an increased cashback (air tickets (miles), gas stations, cafes, taxis and restaurants). The bank's catalog contains a large selection of ready-made solutions for all occasions. You can choose a card with preferential terms for auto insurance, medical insurance, comprehensive property protection.
Sovcombank provides a benefit in the form of a monthly charge on the balance in the amount of 5% per annum. Money from cashback is credited to a debit card in rubles. In order to apply for a card, you only need a Russian passport. Sovcombank cares about the security of customers, all payment data is securely encrypted. If you lose your bank card, you can call the hotline number or write to the online chat to block and reissue.
In the mobile application of Sovcombank, you can transfer money to a client of another bank, open a new account, get information on the card, and also get acquainted with discounts, promotions and great offers. Go to the company's social media page to learn financial life hacks or participate in sweepstakes.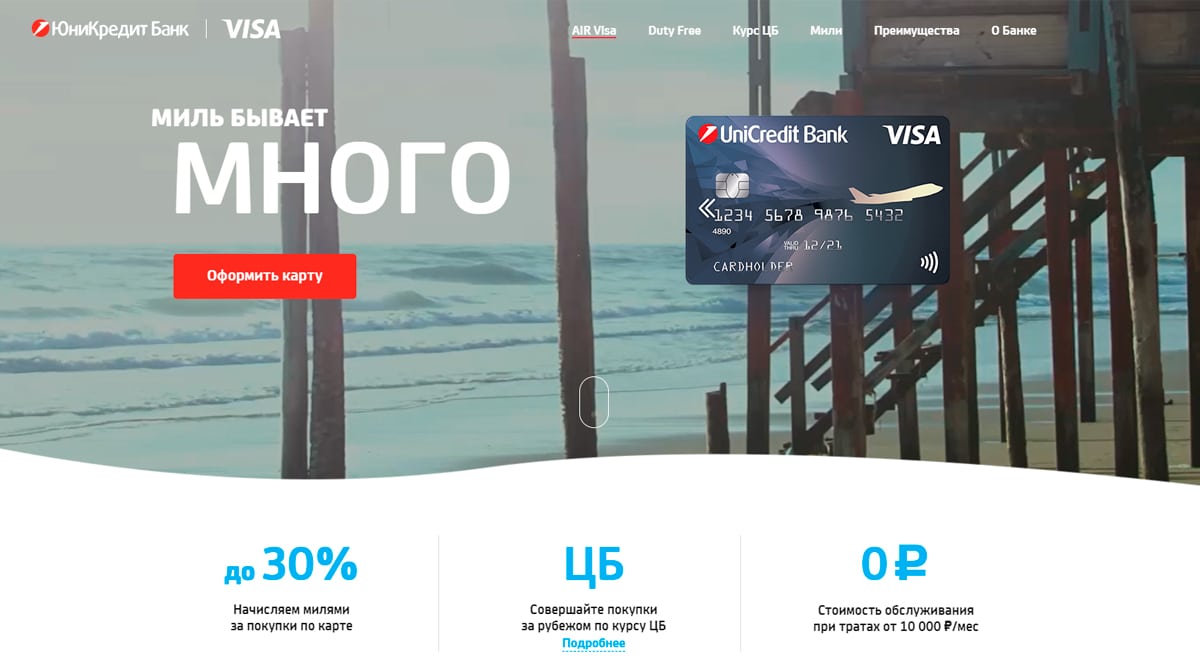 UniCredit Bank offers different cards for real money cashback. Analyze your spending and apply for a card that will help you get the most out of your purchases. AutoCard gives an increased percentage of returns for taxis, carsharing, gas stations, toll roads, public transport. If you spend 10,000 rubles. per month, bank services will be free.
An additional card can be linked to any UniCredit Bank card without any commission or service fee. This will be convenient for issuing a card for a child. Due to the fact that the link goes to the main account, you can always control expenses. You can check your balance, view your payment history, pay for utilities or other services in your personal account or in the bank's mobile application.
The UniCredit website has a tool for comparing several debit cards in Russia, add options there and decide on the best rate for personal accounting. If you have any questions, you can ask them in the online chat around the clock. Thanks to a modern application, favorable rates and customer focus, UniCredit Bank is included in the list of the best for 2022.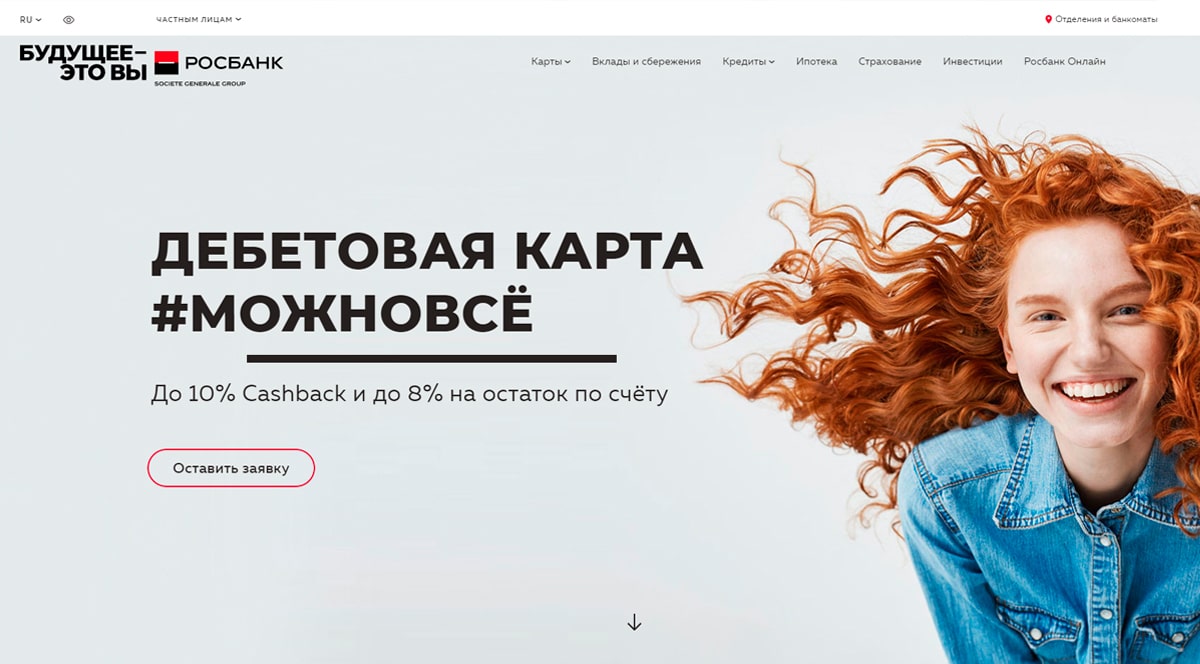 With a debit card from Rosbank "You Can Do Everything", shopping in online stores will become even more pleasant. When paying with a bank card, you get 1% of the funds back from all payments, and up to ten percent of the money is returned to one of the selected categories. Choose one of the product groups (children's clothes, beauty salons, cafes and restaurants, cinemas) and once a month you will receive a nice compensation.
For travelers, a cashback card will be especially convenient. For every 100 rubles, Rosbank credits up to 5 travel bonuses, and in your personal account you can open several accounts in different currencies (dollar, euro). Get a debit card to store and increase personal funds. The bank accrues 8 percent on the minimum account balance on a monthly basis.
Subject to certain conditions, the service will be free. A debit card with a Rosbank overdraft can be used for the Apple Pay or Google Pay fast payment system on Android. For more convenient management of accounts, transactions and transfers, it is recommended to install the Rosbank mobile application on a smartphone.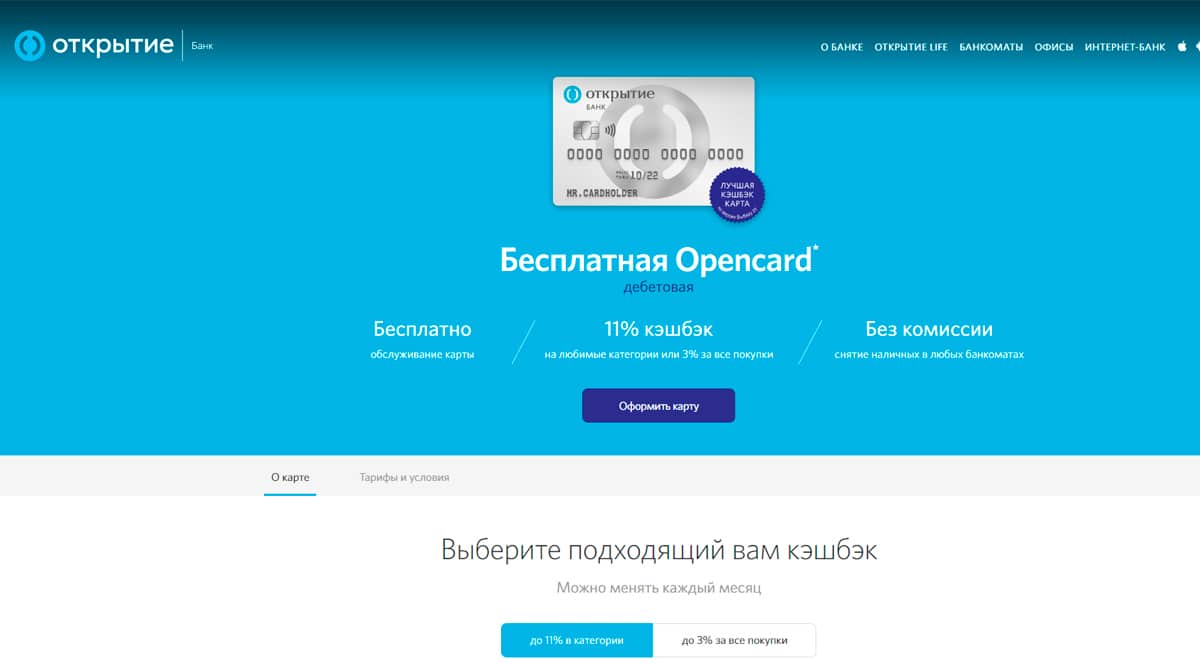 Clients of Otkritie Bank receive up to 11% of the amount spent in cafes and restaurants, gas stations, hotels, beauty salons. If you want, issue an Opencard card with free card maintenance and cash withdrawal at any ATM. To get an increased cashback, select the category on which you spend the most money this month, and next you can change or leave it the same.
Otkritie Bank credits bonus rubles to the account, with which you can compensate for any purchase from 1500 rubles. The site has a convenient online calculator for calculating the amount of the annual benefit received, subject to all conditions. In addition to the returned interest on purchases, the bank charges 5.5 percent on the account balance. Thanks to this, you can easily save up the amount for the long-awaited purchase, saving bonuses to the piggy bank account.
Using a debit card of Otkritie Bank, you can make transfers from a card to a card of another bank without commission. If you often travel, open several accounts in different currencies, then paying abroad will be much more convenient. If you have any questions, you can call the hotline or send an email. A competent customer support service is available around the clock.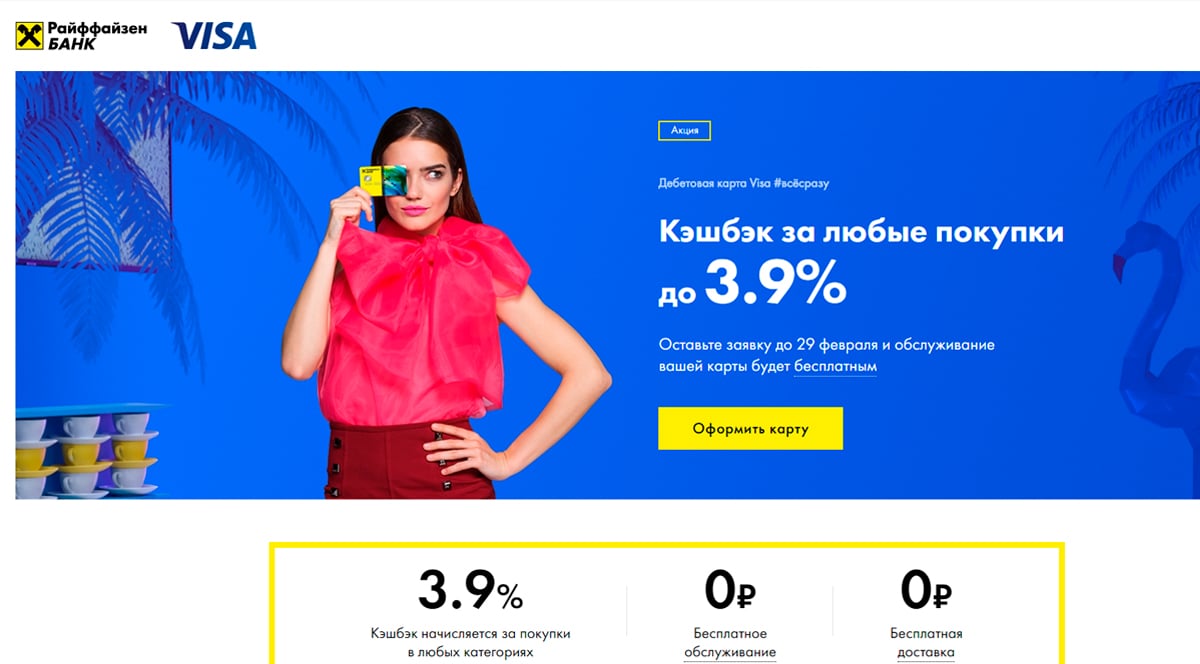 A debit card from Raiffeisen Bank is convenient not only for storing personal savings, but also helps to benefit. Get a Cashback Card for free, get 1.5% cashback for any purchases and a monthly income of 4% per annum. No need to have multiple cards to accumulate increased points. Pay for flights with miles, gas stations and restaurant bills with a bank debit card.
Get a special card for teenagers at Raiffeisen Bank with interest-free replenishment and increased cashback on all purchases. To apply, just fill out the online form and wait for the courier to arrive the next day. At the same time, you can open an account for storing and accumulating funds. Transfers between accounts are available in your personal account.
To find out at what stage of registration the debit card is, go to the "Check readiness" section. You can withdraw cash at ATMs of Raiffeisen Bank and partner companies. The cashback card of the bank comes with free service during the entire validity period. For convenient account management in 2022, payment for services and transfers, download the Raiffeisen Bank mobile application.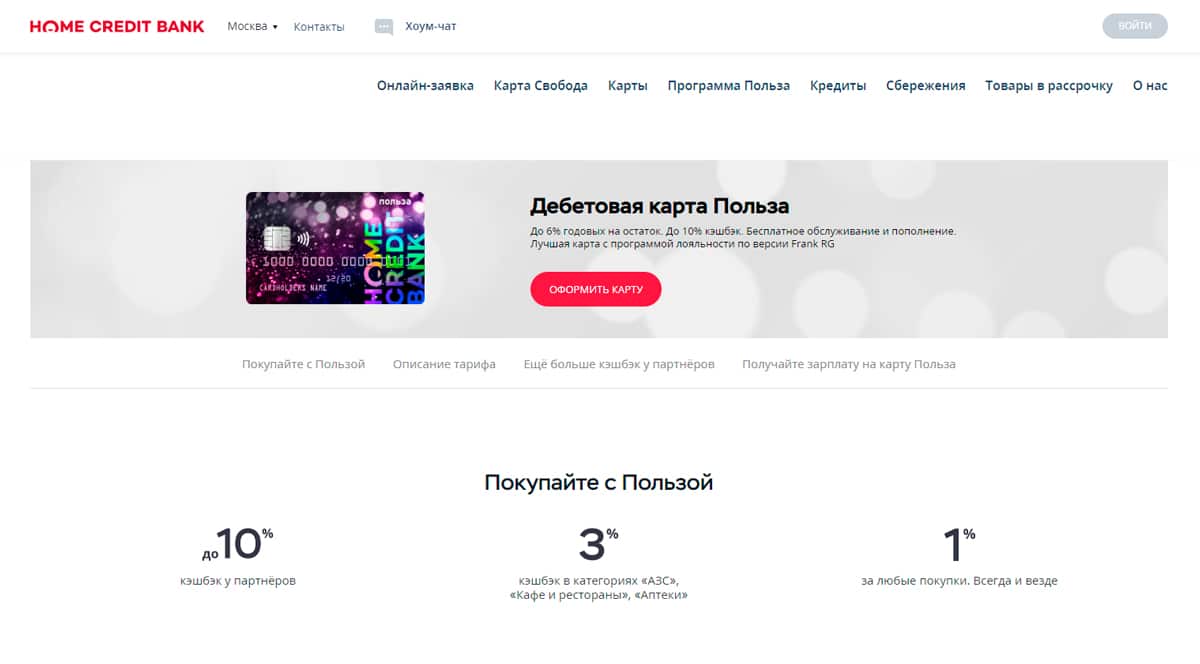 You can apply for a debit card with cashback and interest on the balance at Home Credit Bank. Based on the goal, choose the right program: for travelers, it's beneficial to issue the "Travel Benefits" tariff, for gamers "In Game", and for those who care about health, the "Green" bioplastic card with a cashback of up to 10% from eco-partners is suitable: iHerb , Moss, Sportmaster, Fresh.
No monthly fee is charged for the card if the amount of purchases exceeds 5000 rubles. With PayWave technology, you can pay in stores in a contactless way. Card data and payments are securely protected by PCI DSS and 3-D Secure. You can safely pay for purchases in international online stores without fear of leakage of personal information.
Cashback received under the Home Credit loyalty program can be exchanged for rubles in your personal account or spent on certificates and discounts from partner companies. In the Internet banking application, replenishment of the account and transfer of money within the bank will be free. The bank gives the first two months of SMS notifications to new customers free of charge. This is the 4th best debit card with cashback for travel and pensioners in Russia according to user reviews.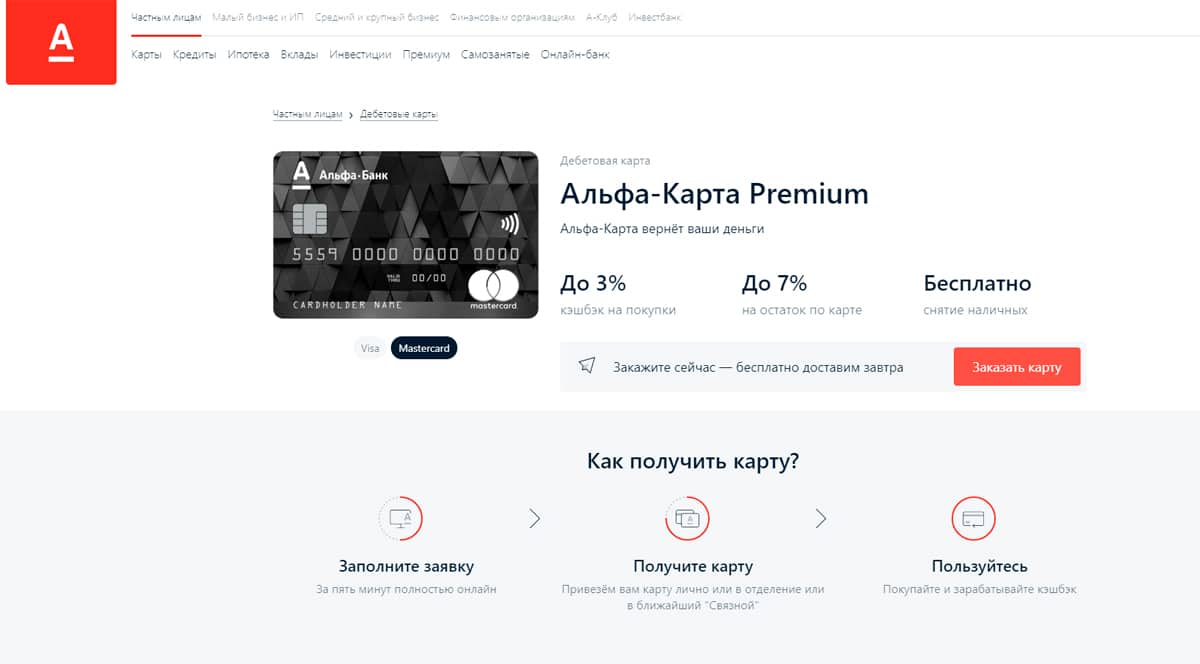 If you want to get a debit card with a profitable cashback, consider the offers of Alfa-Bank. The most popular Alfa-Card Premium program gives a three percent cashback for purchases and income on the balance up to 7%. At the same time, cardholders receive a personal manager, a transfer to the airport, free cash withdrawals around the world, and a preferential currency conversion rate.
For car owners, Alfa-Bank has prepared a special tariff with a 10% refund on the purchase of fuel at gas stations, as well as a partial refund for paying bills at restaurants and cafes. Under the cashback program, you can get up to 21,000 rubles per month. Among other offers, you can purchase a card with favorable conditions for shopping in the Perekrestok, Pyaterochka, Russian Railways stores.
Issuance, maintenance of the card, cash withdrawal free of charge in the first two months of use. This period can be extended by fulfilling the conditions of the bank (account balance at the end of the month or reaching a fixed amount for card purchases). Thanks to a profitable program, a convenient application and reliable payments, Alfa-Bank's financial products are in the TOP-10.
User Choice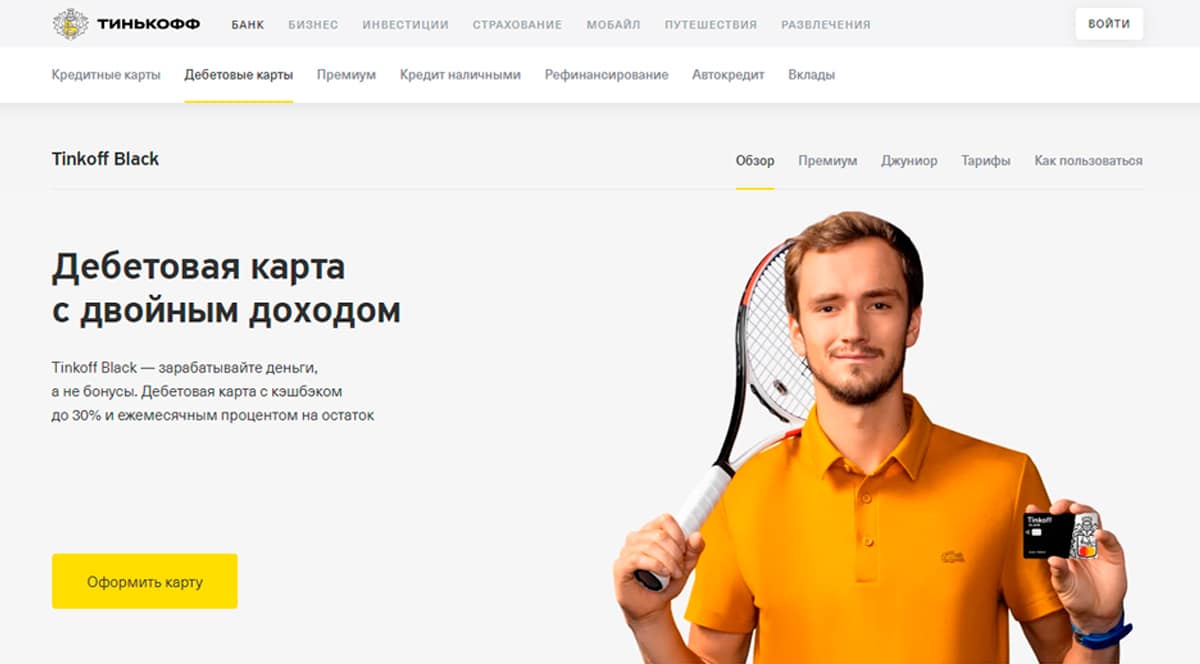 With a Tinkoff debit card, you can receive cashback for any purchases on the Internet. The most popular offer and the best card according to the bank, Tinkoff Black with increased cashback up to 30% for purchases. A five percent bonus is credited to the balance of the account, and the refund is made in rubles. At the end of the month, the bank charges the amount that you can spend at your discretion.
To teach children how to handle money, Tinkoff Bank has issued a debit card for teenagers. In addition to the bright design, the child will receive a convenient youth-style app and increased cashback for purchases in online stores. To issue a bank card, just fill out the online form and wait for the arrival of the courier. With a Tinkoff plastic card, you don't have to worry about cash, customers can withdraw without commission at an ATM of any bank.
Maintenance of the account will be free if there is 30,000 rubles. per month. All payments are protected by a reliable system according to the international standard. But for complete protection against fraudsters, you can use the insurance service against unauthorized debiting. If you need a payment in another currency, switch between accounts with one touch in your personal Internet banking account.